September 7, 2017
In their recent weekly sales figures, market leading department store, John Lewis, reported an increase in sales across all their departments on the same week in 2016 (week 32). Overall fashion sales were up +7.5%; primarily driven by womenswear, which increased by +21.5%. Electrical and Home Technology sales grew +9.2%, facilitated by a +53% increase in sales of Apple MacBooks by matching a competitor's promotion - proving the retailer remains true to its price-matching slogan "Never Knowingly Undersold". Overall, total sales for the week climbed by +5.9% year-on-year.
John Lewis continues to adapt to its consumers changing buying habits with click-and-collect sales becoming increasingly popular among shoppers. According to Econsultancy, over half of online retailers were offering a click and collect service in early 2016, with 72% of consumers making use of it. John Lewis has collaborated with 'sister' retailer, Waitrose, to offer this service. This enables customers to order online and collect instore, either at a John Lewis branch or a Waitrose – with 49 and 373 stores across GB respectively. Not only does this dedicated click-and-collect service provide a quick and simple collection process, but it also enables shoppers to collect John Lewis items whilst food shopping at Waitrose, thus increasing footfall and in-store sales. In 2016, click-and-collect orders grew by +11% and accounted for 53% of online orders the same year, helping John Lewis Partnership (JLP) to win 'Best Click & Collect Retailer 2016' (Verdict Consumer Satisfaction Awards 2016).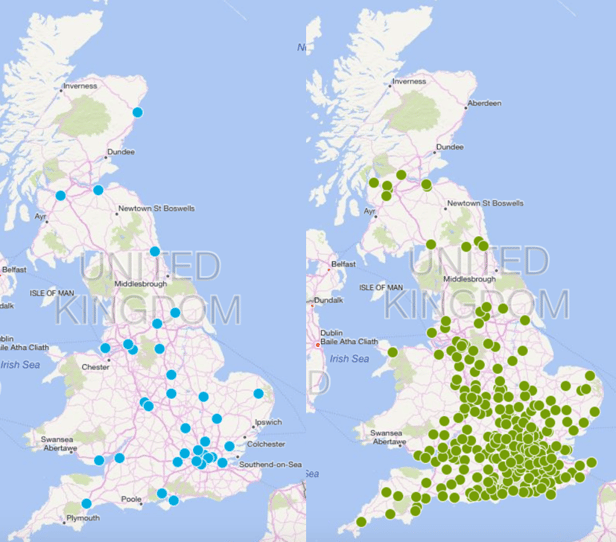 Figure 1: John Lewis locations in GB (Source: LDC) Figure 2: Waitrose locations in GB (Source: LDC)
There are currently only 19 Waitrose stores that have a John Lewis or John Lewis at Home store located within a 1km radius (excluding Little Waitrose).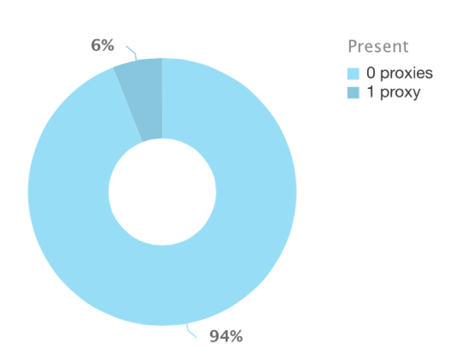 Figure 3: Number of John Lewis / John Lewis at Home stores within 1km of a Waitrose (idenfied by 'proxy' (Source: LDC)
Nonetheless, the number of John Lewis stores has increased by two in the last 12 months. An example of this is Chelmsford, which opened on 29th September 2016. Chelmsford has now seen its health index increase from 6/10 to 9/10 based on the LDC / Morgan Stanley Health Index. The retailer is also planning to open another two stores in Oxford and Westfield London later this year; plus, a store in Cheltenham which has been pushed back to open in early 2018.
The other John Lewis store which has opened in the last 12 months is in Leeds, where it has located within 500m of four department store competitors; Marks & Spencer, House of Fraser, Debenhams and Harvey Nichols.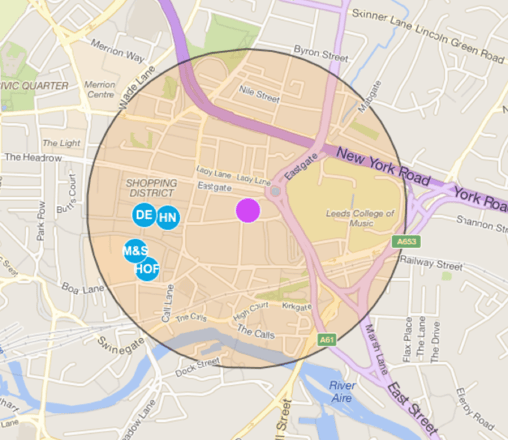 Figure 4: 500m radius around John Lewis, Leeds (Source: LDC)
The collapse of BHS shed light on the harsh reality that if department stores do not innovate and expand their product offering, they will get left behind. Amazon founder, Jeff Bezos, summarises this best with his quote: "If your customer base ages with you, you're Woolworths". One of the key reasons that BHS wasn't able to succeed in the current market was due to a lack of a substantial online presence - where John Lewis flourishes, further strengthened by their click-and-collect service.
BHS also struggled to compete with other discount retail brands such as Primark, Next, New Look and H&M eating into their market share. Customers perceived these brands to be more fashionable, as well as able to compete for lower prices. Primark has been the largest re-occupier of BHS units so far, opening in four of the old BHS locations with others planning or close to opening in Sheffield, Hastings and Staines. Primark, New Look and H&M frequently locate near each other; 37% of Primark's estate is located within 200m of a New Look and H&M store. The purple dot on the map below represents Primark, 'H&' is H&M and 'NL' is New Look.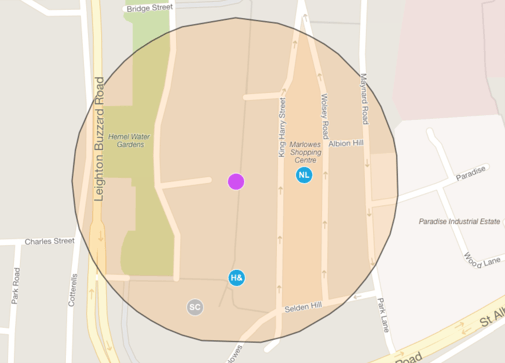 Figure 5: 200m radius around Primark, Hemel Hempstead (Source: LDC)
As for the current estate of former BHS stores, only 14% of stores have been reoccupied; however, a further 22% of stores are currently in the planning stages for new retailers. The prevailing challenge is that the large stores which BHS occupied are "not sought after" in the difficult retail environment (Stuart Moncur, Cushman & Wakefield).
In my opinion, department stores need to address the rise in online sales in order to stay relevant. The biggest challenge that most retailers – not solely department stores - face with online shopping is that consumers do not enter their stores. Click-and-collect services can solve this. The main advantage of online shopping for consumers is that it is convenient, yet most delivery methods are not. Consumers do not want to be waiting around at home for a parcel to be delivered when they could be getting on with other things. Click-and-collect services mean customers are able to pick their parcels up at a time and location that is convenient for them, therefore by providing a click-and-collect service, department stores can benefit from the increase in online shopping whilst also getting customers to physically visit their stores.