February 16, 2017
Department stores have been the feature of the British high street for centuries. They made their entry onto the high street in the late 19th Century and since then some original names have gone and others have survived. For example, Harrods, probably the best known internationally, opened its doors in London in 1834 and remained as one iconic store until very recently when it expanded into airports.
Kendals in Manchester claims to be the oldest British department store. Kendals? I hear you shout, but for me having gone to school in Lancashire it was the byword for everything you needed in a shop. Kendals can be traced back to 1832, but today is owned by House of Fraser. In Scotland, Jenners department store opened in Edinburgh in 1838 and is now also owned by House of Fraser. Selfridges was a relative newcomer to London in 1909.
John Lewis – Exeter. (Source: LDC)
Department stores have had some challenging times in the last decade and none more so than Woolworths in January 2009 when over 800 stores closed. More recently we saw the closure of BHS, McEwens in Perth, Fenwicks in Leicester, Barretts in St Neots, Allders and Austins in Northern Ireland. Many more have been bought up by House of Fraser, Debenhams and other operators. Other recent news has alluded to the challenges that the likes of House of Fraser, John Lewis and Marks and Spencer are facing.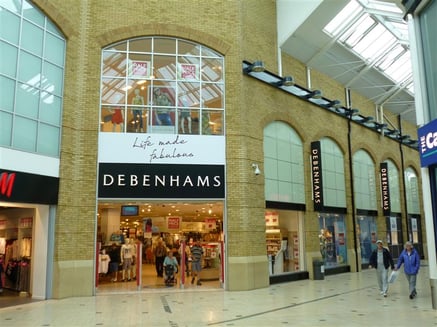 Debenhams – Banbury. (Source: LDC)
The current profile of department stores is interesting for a number of reasons:
Marks and Spencer have the most stores at 300 and have continued to grow.
A new style of department store has appeared and grown significantly through the likes of Matalan, The Original Factory Shop, TJ Hughes and Boundary Mills Stores.
Independent department stores, whilst in decline, still have a significant presence with 133 stores.
The majority of operators have between 5 and 50 stores.
John Lewis has extended its presence through new large and smaller format stores including John Lewis at home who are out of town focussed.
The South East has the most department stores at 198.
Scotland, the East Midlands and the North East have all seen a 15% decline in the number of department stores in the last 12 months.
High streets still have the most department stores at 500 but have shown an 11% decline in the last 12 months.
Shopping centres have seen the greatest reduction in department stores at -21%.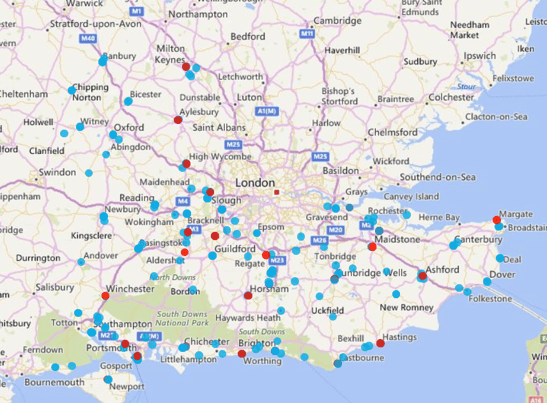 Occupied and vacant department stores in the South East of England. (Source: LDC)
So what is the future for department stores in the new age of retail?
I believe that the future is challenging because of a number of factors:
Property costs for these large stores have rocketed and will continue to do so with the new Business Rates Review of this year, as many are in prime locations.
Margins for retailers who are resellers of other brands are being squeezed compared to own label operators.
Operating a Total Retail model of instore and online channels has increased costs and complexity considerably. John Lewis is a good example of this where online sales have nearly reached 50% but what can be done about the 30% returns rate?
Brands are increasingly dominant and want to control their consumers' experience and have increasingly been opening standalone stores which are as much a marketing store than a retail store. Good examples include Nespresso, Nike, Adidas and Barbour.
Department stores in smaller secondary towns have strong competition from out of town retail parks where many other anchor stores such as Next have moved. They also compete with the increasing dominance of cities with their mega malls and other major cultural and sporting attractions that make them a destination for shoppers.
As we know it has been challenging for everyone on the high street since 2008. This is the case especially for the traditional department stores where creating a destination and experience can be challenging when you have such a broad range of products, brands and values. Selfridges has been proactive at trying to maintain relevance be it through pop-up shops within the store, increasing its premium offer, or increasing number of restaurants they have. At the last count, they had seventeen places you can eat and drink!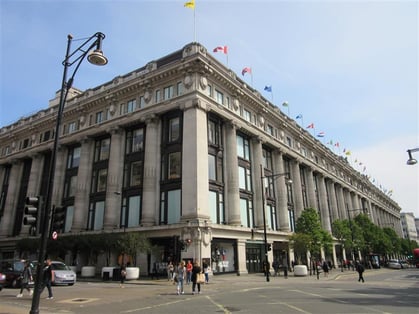 Selfridges – London. (Source: LDC)
LDC's numbers reflect the impact that these challenges have had. In the last five years, the number of department stores across Great Britain has declined by 14% which is a net loss of 211 stores.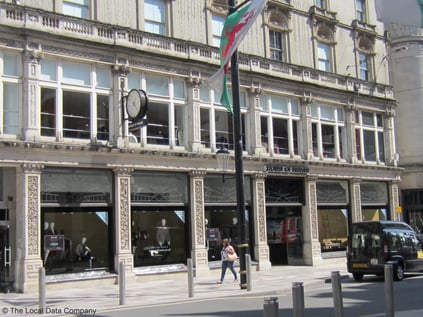 House of Fraser – Cardiff. (Source: LDC)
Analysis of the health of locations using the LDC Health Index, developed in partnership with Morgan Stanley, is interesting and might be a good indicator of relevance of department store by specific area. Below I have selected a number of department store fasciae, analysed by the Health Index and as you can see clearly each fascia has varying degrees of health within their portfolio of locations.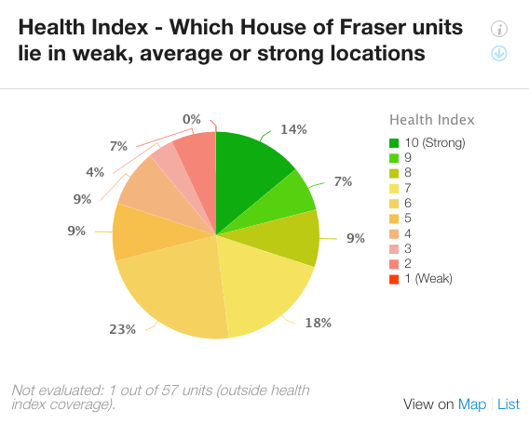 Percentage of House of Fraser units that lie in weak, average or strong locations. (Source: LDC)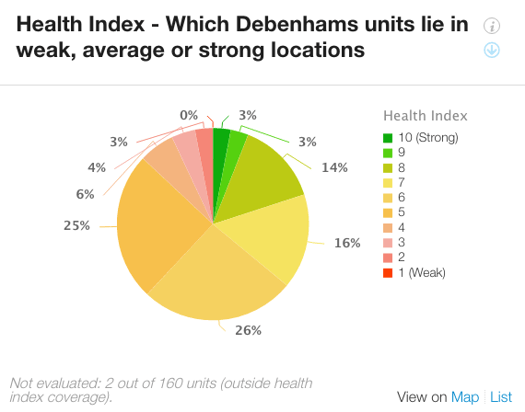 Percentage of Debenhams units that lie in weak, average or strong locations. (Source: LDC)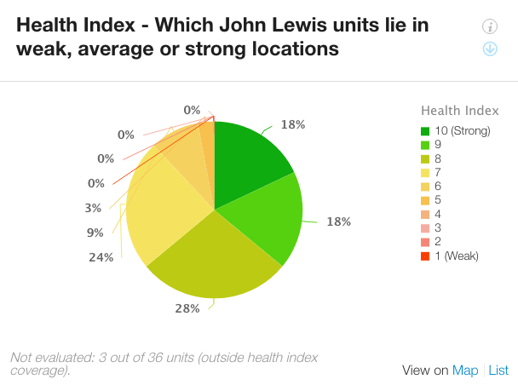 Percentage of John Lewis units that lie in weak, average or strong locations. (Source: LDC)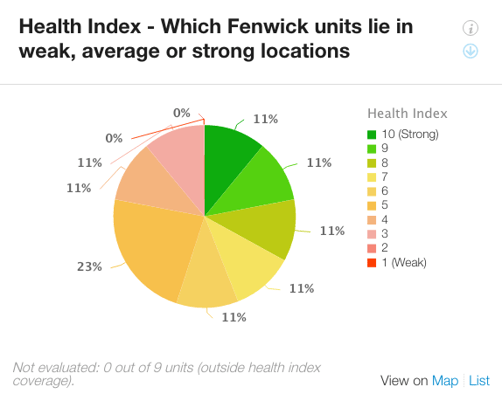 Percentage of Fenwick units that lie in weak, average or strong locations. (Source: LDC)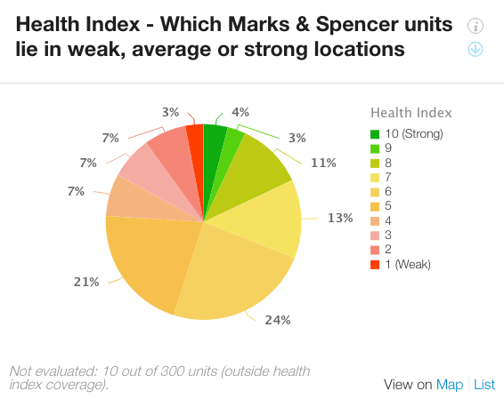 Percentage of Marks & Spencer units that lie in weak, average or strong locations. (Source: LDC)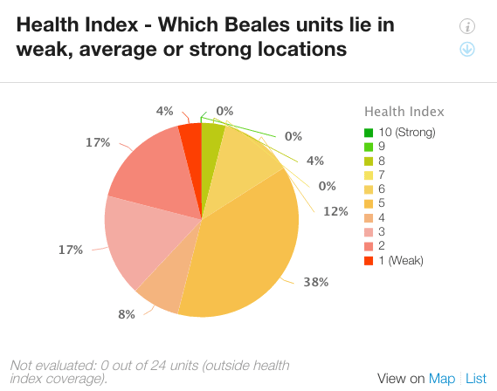 Percentage of Beales units that lie in weak, average or strong locations. (Source: LDC)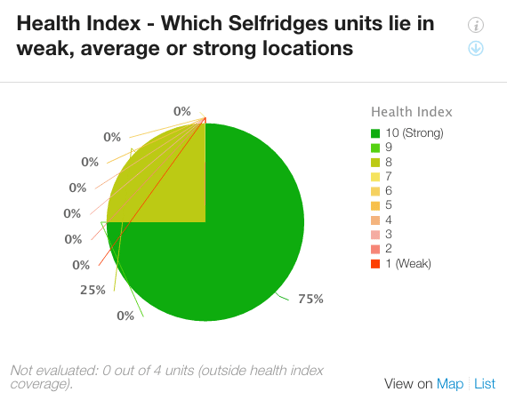 Percentage of Selfridges units that lie in weak, average or strong locations. (Source: LDC)
Maintaining relevance and sustaining profitability, whilst at the same time being innovative are the major challenges alongside being in the right location in the right towns and increasingly retail/shopping parks. Only time will tell, but the role and relevance of department stores is changing and as with most things in life, I think it will come down to 'survival of the fittest' where fitness is determined by awareness and willingness to change. Was the decision to move to 'outlet centres' that M&S and House of Fraser adopted evidence of this?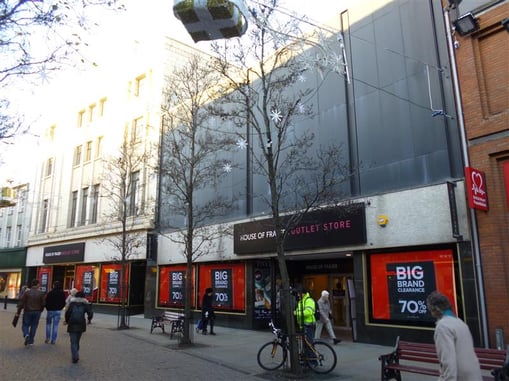 House of Fraser Outlet store – Doncaster. (Source: LDC)