November 4, 2020
Our latest analysis on trends across the first (exceptionally challenging) half of 2020 is out now and available to download for free.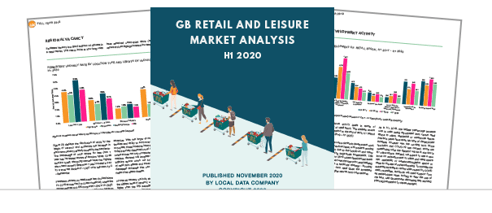 The first half of 2020 saw 80% of the retail and leisure market close temporarily during a strict lockdown due to the onset of the COVID-19 pandemic in the UK. Since then the market has grappled with huge changes including a myriad of changing restrictions, consumer fears around contracting the virus and ensuring staff are protected at work.
Whilst it is still very easy days in regard to measuring the full impact of the pandemic, there are already huge structural changes taking place across GB's high streets, retail parks and shopping centres.
This analysis provides a critical first update on the trends seen so far, reflecting in detail on which corners of the market have been more resilient, and which are feeling the full force of prolonged periods with limited or no trading.
Download the report now to access data on:
Openings and closure trends across comparison goods, leisure, service and convenience classifications
Net change across GB high streets, shopping centres and retail parks.
Vacancy rate changes across location types, regions and GB averages.
Changes to long-term vacancy rates.
Reopening trends across the market.
The occupancy status of units vacated by brands during a CVA
Property redevelopment trends
Brands which have seen growth in H1 2020

Download your copy via the button below:

For more information on any of the trends highlighted in the report or details on how our products and services can support your business through the pandemic, get in touch via email at team@localdatacompany.com.