May 19, 2017
The May edition of LDC's Dynamic Location Intelligence Bulletin (full version is available to all customers of LDC only) looks at retail location activity levels for April, including data on net changes in store numbers, vacancy rates and market activity highlights across retail locations in GB.
Highlights from this month's edition are:
Data for April reveals that the store growth curve we have seen so far this year continues, but growth is starting to slow.
April's performance in openings and closures reveals a drop in overall activity, which has been slowly decreasing since September and has now reached a low almost equal to the mid-year dip in 2016. This has resulted in a net change overall of just +90 stores across GB.
Convenience and Comparison stores both declined in number, whilst Service and Leisure grew, but again at a lesser rate than we have previously seen. The most marked difference in April was between numbers of Independent stores and numbers of Multiple stores, with Independents gaining +289 stores in total across the month, but multiples losing a significant -200 stores.
The above data points may seem quite separate, but this actually reflects the recent trends for Independent service and Leisure units to continue to pop up, especially on our high streets. Our high streets are being filled more and more with independent shops, which, in some towns locals favour, with consumers looking to support local businesses and purchase more unique products and services, different to the consistent customer experience that multiples boast.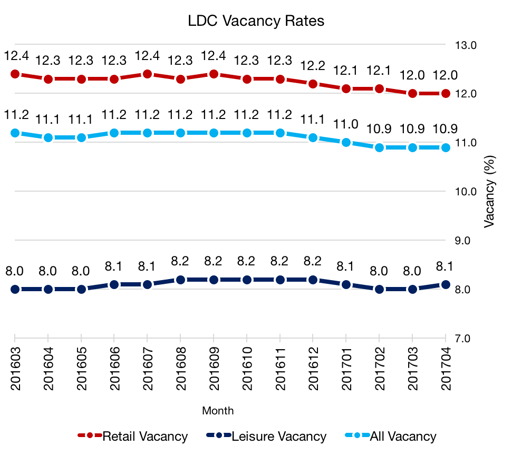 Figure 1 - Vacancy rates across GB, 2016 - 2017
The story for Vacancy is a similar one to openings and closures, the line of improvement is leveling off (albeit at a very slow rate), and fears are, improvement in Vacancy rates may continue to slow, and even decline, as numbers of new openings also reduce. The Retail Vacancy rate stood at 12.0%, where we found it in March this year, and the combined All Vacancy rate (Retail and Leisure units) stayed at 10.9%, where it has been since February. The Vacancy rate for Leisure units actually increased in April, although a small amount at 0.1%, leaving the Leisure Vacancy rate at 8.1%, which is still much lower than the retail equivalent.
What is interesting is that the market does seem to be slowing, whether that be due to current levels of political turbulence, with Brexit still hitting the headlines frequently, a general election only weeks away, and frequent controversy from across the pond, or simply a shift in the market, brought on by the changing nature of today's consumers and a rapidly changing market.
This, amongst a market backdrop of huge change for retailers, with Debenhams announcing a turnaround strategy, including the desire to transform Debenhams into the ultimate 'destination' for shoppers, M&S expanding their food store presence, and a potential return of the Woolworths brand to our high streets.
For data on the full year 2016, download our latest report summary here. For more information on the Dynamic Location Intelligence Bulletin, email the team at marketing@localdatacompany.com.