March 11, 2016
Last week we held our 13th Retail Health Summit at the London offices of Berwin Leighton Paisner and published its latest report on Great Britain's vacancy rates from the second half of 2015. The report titled 'Restructure and Recovery' analyses 2,179 towns, shopping centres and retail parks that LDC visited in the second half of the year. It provides the most comprehensive insight into the health of the country's shopping destinations and how they are changing.
"2015 was an encouraging year for the overall 'health' of our town centres, retail parks and shopping centres."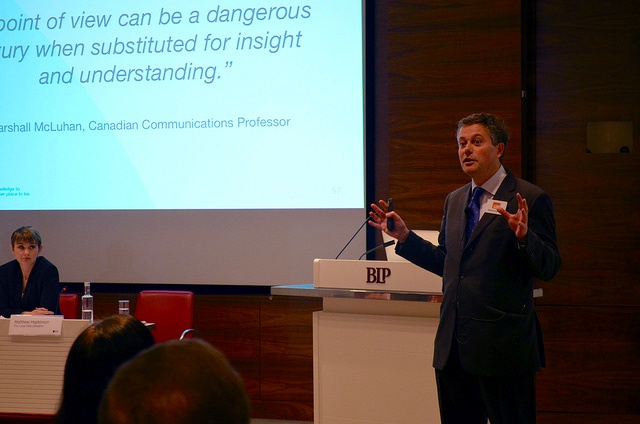 More images from the summit can be found here
There was evidence of recovery as a result of stronger consumer confidence and early signs of restructuring and regeneration having a positive impact. The health of our 'high streets' should always be a reflection of the economy that they exist within. This is both at a micro and macro level with employment rates and weekly average earnings being significant at the micro level, and interest rates and inflation being examples of macro influencers.
The wide improvements in vacancy rates across the country are a result of more shops being filled rather than a reduction in the overall stock. In part this is due to the significant expansion in leisure (food and beverage, and entertainment) outlets that continues at a pace but has raised concerns of a bubble.
Other reasons have been significant regeneration and developments reaching completion. Examples in 2015 include Friars Walk in Newport, The Broadway shopping centre in Bradford, Grand Central in Birmingham and East Point Retail Park outside Nottingham are but a few examples. In addition to these schemes, hundreds of town centres have received significant government funding for the regeneration of their high streets since 2012, when a number of reports were published on the subject, including the Portas Review and Grimsey Review.
Investment activity in 'secondary/community' shopping centres has been strong, with the new owners investing in the improvement of the public realm around these locations. This has made them more attractive sites for retailers and shoppers. NewRiver Retail and Tristan Capital Partners are two examples of active landlords in this space.
Location types
Whilst high streets and shopping centres have seen solid improvements in their occupancy rates, it is the retail parks that really stand out as the destination of choice for many retailers, with Next being the most expansive occupier for many years on out-of-town parks. Retail parks are bigger and more diverse than ever before, with retail and leisure offerings, free parking and better logistical structures for retailers in the world of Total Retail – in-store, online, mobile and click and collect.
Persistent Vacancy
As I have stressed in the past, there are wide differences by location and asset class up and down the country. So for a number of towns and shopping centres times are still very challenging, with towns such as Dewsbury, Hartlepool, Walsall, Bootle, Bolton, Burslem and Wigan all have one in four of their shops lying empty. Many of these centres you will note, are north of the Watford Gap and this persistence of vacancy comes out clearly when we look at the key location health indicator of how long shops lie empty. For the North East, North West and West Midlands, they all have significant issues in the number of long-term vacant units where over 6% of their total stock has been vacant for more than three years whilst in Greater London the number is just above 2%.
2016
"Britain has too many shops, and we continue to build more, and many areas are blighted by this fact as seen by the thousands of shops that have no prospect of ever being reoccupied."
So 2016 has the potential to be another year of improvement if employment and wages continue to rise, and interest rates and inflation remain low. The fact, however, remains that Britain has too many shops, and we continue to build more, and many areas are blighted by this fact as seen by the thousands of shops that have no prospect of ever being reoccupied. Opportunity knocks for those who know where, what and how this is best done at the micro level.
Key facts
In H2 2015 the GB retail and leisure vacancy rate reduced from 11.7% in H1 2015 to 5% (-0.2%)
The number of vacant premises in the top 650 town centres was 24,761(-399 since H1 2015). Overall and across all locations tracked by LDC there were 47,597 (-1,994 since H1 2015) vacant premises.
Wales has the highest national vacancy rate at 6%.
The best performing region remains London at 6%.
The worst performing region with a vacancy rate of 7%, is the North East.
Shopping centres continue to have the highest overall vacancy rate at 14.1% (-0.7% since H1 2015), followed by Town Centres at 11.5% (-0.2% since H1 2015) and Retail Parks at 6.2% (-0.4% since H1 2015).
Retail parks, whilst performing best overall, see similar differences to towns and shopping centres with 5.3% distinction between the highest regional retail park vacancy in the North West (9.1%) and the lowest retail park vacancy in the East Midlands (3.8%).
Shopping Centre vacancy is clustered in the range between 3% (South East) and 18.6% (West Midlands), with London (9.0%) being a significant outlier.
In H2 2015, the number of vacant units in town centres that have beenunoccupied for more than three years has risen by +28.6% to a total of 12,321 units (+2,671 since H1 2015).
The National Picture
The national vacancy rate in H2 2015 improved by -0.2% versus the first half of 2015. This comes as a result of over 800 previously vacant units being reoccupied. England has the lowest town centre vacancy rate (11.3%) followed by Scotland (11.7%) with Wales some points behind (14.6%), although it saw the biggest fall in vacancy rate in the H2 2015 (-0.4%).
Table 1. Average vacancy rate and average vacancy rate change, by location type across GB in H2 2015. (Source: LDC)
Performance by regions
Table 2. Average Vacancy rate, by English regions H2 2015 (change since H1 2015). (Source: LDC)
Persistent vacancy
The number of total units in town centres that have been unoccupied for more than three years has risen in H2 2015 by 1% across GB. The North East has the largest percentage of total units that have been vacant for over three years (7.3%) with the average now just below 5% of all stock.
5 year view*

25 of the 40 (63%) worst performing town centres in 2010 have improved their vacancy rate over the last 5 years (was 57.5% in H1 2015). The town centre with the biggest improvement in the last 5 years was Brixton in Greater London, which saw a -12.2% drop in its vacancy rate. Preston saw the biggest increase in the last 5 years amongst the worst performers, with the vacancy rate increasing by +7.2%.
"2016 could go either way in terms of the vacancy rate rising or dropping."
2016 could go either way in terms of the vacancy rate rising or dropping as there is so much uncertainty for consumers and retailers with BREXIT and the impact of the living wage. Will more leases not be renewed, will more retailers poor profitability and being tied to long upward only rent leases take more down the CVA route as it appears likely with BHS. The retail economy is a fluid and fragile one that can rapidly change from boom to bust. Therefore tracking it is key to success - forewarned is forearmed! There is however much to look forward to with consumers having more disposable income but perhaps less confidence than they did in 2015.
*shops only
Click below to request your copy of the H2 2015 Retail Health Report Summary: 'Restructure and Recovery'