May 18, 2021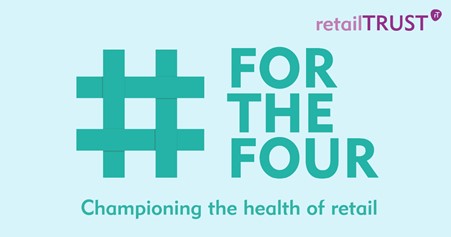 retailTRUST was founded in 1832, with the mission of promoting a 'confederacy of good feeling' between retailers. Today, they support workers across the retail sector and their families, facilitating access to life-saving medical care, educational grants for career-based training and support from helplines and free counselling. On the 10th and 11th of May, they ran a free online event aimed at everyone in the retail industry.
Last week's event, entitled '#forthefour: Championing the health of retail', comprised online talks and workshops ranging from the role of retailers in a post-pandemic society to tackling imposter syndrome and improving financial health. Speakers from a host of well-known brands such as Pinterest, ASOS and Pets at Home joined other experts and industry leaders to discuss how companies and individuals can work together to put wellbeing at the forefront of retail's recovery.
On the first day of the talks, chief executive of the British Retail Consortium Helen Dickinson reminded us of the sense of emergency at the start of the pandemic, and how profoundly it was felt. Many thought that the supply chain wouldn't hold up, that we'd run out of pasta and toilet paper, that the infrastructure would collapse. The Prime Minister's press conference, in which he named supermarket workers as essential, was a pivotal moment, said Morrisons chief executive David Potts. The public recognition of supermarket staff as frontline workers underlined how much we rely on supermarkets: when everything else was closed, they'd be there to feed the nation.
The strain on workers was immense, especially when it came to the new restrictions: as Potts pointed out, workers are not there to enforce the law, and not all customers take kindly to being told to wear a mask. Witnessing this first-hand on his visit to a Morrisons store, he saw just one of the challenges faced by his people.
It was by no means their only challenge. Staff in all departments faced unprecedented demands on their roles and Covid fatigue started to creep in, intensified by the strain caused by homeschooling children, bereavements and the fear of infection. The role of HR was thrown into relief. How could businesses do what was best for their people? Sach Kukadia, Chairman of ReHaus and Director of Residently, emphasized how difficult this was for small- to mid-size businesses. While we are social animals driven to help each other, he said, we are also driven to survive. To behave like a human in this situation, you needed the resources to do so. Investors and boards cut costs not out of cruelty but out of a need to survive, to maintain momentum when everything threatened to grind to a halt.
The need to communicate was a recurring theme. Sharing his own experience of alcoholism and depression during his time as Tony Blair's campaign director, Alastair Campbell spoke of a worry that mental illness would become the second pandemic. As the presence of mental health first aiders becomes increasingly common in offices, it is clear that these conversations are long overdue. Some speakers believed that the onus was on businesses to open up these spaces. We have to communicate in every direction; Nick Beighton, ASOS CEO, makes time to personally speak to new starters in the company and allows execs to be interrogated.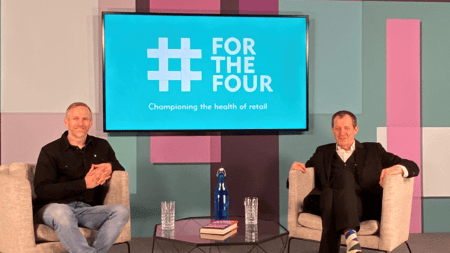 retailTRUST CEO Chris Brook-Carter with writer and campaigner Alistair Campbell.
We need to remember, too, to listen as much as we talk. In the BRC's report on diversity and inclusion in retail, 84% of businesses said they'd made D&I a priority, but less than half (49%) of employees agree. CEO of Barjis, Barjis Chohan, spoke extensively of the discrimination she faced as a Muslim woman in fashion, calling for greater diversity among business leaders and more conversations around mental health at work.
Unsurprisingly, communication can also make our work better. Some bosses were initially reluctant to let employees work from home, before hearing that they were not only happier but more productive when allowed to do so. A commute eats into the day, and home working affords a greater work-life balance. Greater efficiency and the possibility of cutting costs by downsizing office space— listening to what works best for workers also makes good business sense.
What does this all mean for the future of retail? In David Potts' words, it's not about how you get knocked down, it's about how you get up. Early data points to a bright future; it looks like we'll be confined to the UK for the time being, so it's likely that consumers will be spending all of their money here, and retailers are reporting strong sales figures as shops and restaurants reopen. But there's work to do. The pandemic forced us to confront the inequalities in our industries: a lack of diversity at work, the stigma around mental illness, what constitutes fair pay from cashier to CEO. Sach Kukadia doubts we'll have the 'roaring '20s' many have predicted. As he reminds us, the pandemic is only fixed when it's globally fixed.
LDC Commercial Director Lucy Stainton has worked with retailTRUST for 7 years as an ambassador and chaired the organising committee for the 2020 retailTRUST London Celebration. She explained why the charity, and its work, is so important to us at LDC:
"LDC play a critical role in monitoring the structural changes taking place across the physical retail and leisure landscape - and there is no denying that the market has been on a challenging trajectory, exacerbated by the covid-19 pandemic. Whilst we report the statistics around changes in occupancy, vacancy and across sectors and locations, we are also acutely aware of the human impact of these changes. With this in mind we are very proud to support the retailTrust – who do an incredible job supporting our retail colleagues across all pillars of wellbeing. We are hugely pro anything LDC as a business can do to raise awareness of the charity's fantastic initiatives, as well as fundraising in support of the Trust – and we'd very much encourage our peers to do the same."
The role of retail in the UK has changed, likely forever. We don't know precisely what that role will be yet, but we know that our power is in our people, and their continued wellbeing is the best investment we could possibly make.