September 9, 2020
Installation of our next-generation footfall sensor is starting to gather pace and we are delighted with its performance so far. After a year and a half of research, testing and development by our incredible in-house technology team, we have developed a sensor which is incredibly accurate, captures ground-truth footfall data and has long-term stability, performing consistently well at all times of day and night, weather conditions and densities of people.

How it works
Our brand-new and proprietary technology uses a form of ultra-wide band radar - a similar technology to parking sensors in modern cars. The radar counts moving and stationary objects within a field of vision and sends data back to the base station to transmit to the Local Data Company server for processing.
A key feature of this technology is that it counts ground-truth numbers and does not rely on counting proxies for footfall (such as WiFi signals) or sampling to produce figures.
Why it is different to other technology


Captures ground-truth numbers for passing footfall and does not rely on measuring proxies for footfall or samples.
Very accurate and has consistently tested to perform within a +/-5% error margin.
Not reliant on any other technology (WiFi, Bluetooth etc) so has long-term stability.
Captures granular, hourly counts with consistently high accuracy.
Can be used to set an exact field of vision so footfall counts are precise and relevant.
Uses proprietary technology developed specifically for the retail market by the Local Data Company technology team.
100% GDPR compliant and maintains consumers' privacy - no personal information is collected.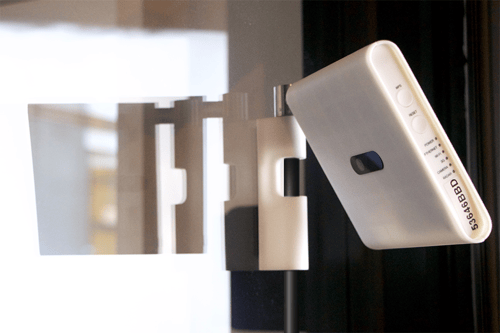 A Local Data Company footfall sensor installed in a store window.
USE CASES FOR OUR FOOTFALL DATA


Monitor recovery and footfall trends during the COVID-19 pandemic.
Measure conversion rates for individual stores.
Benchmark performance across an entire portfolio.
Monitor the impact of marketing activities such as window displays and discount campaigns.
Plan and measure the impact of localised marketing and media.
Optimise operational models including opening hours, staffing and stock levels.
Measure the impact of local events and holidays.
Quantify and evidence how a space/locality is used.
Analyse consumer habits throughout the pandemic and beyond.
ACCESS TO The data
Data from these devices is available in multiple formats; as a raw data file, via our online insight platform, LocalDataOnline, via API or through bespoke reports produced by our experienced insight team.
Get in touch with us for more information at team@localdatacompany.com or give us a call on 0203 111 4393.