The March edition of LDC's Dynamic Location Intelligence Bulletin (full version is available to all customers of LDC only) looks at retail location activity levels for February, including data on net changes in store numbers, vacancy rates and now market activity highlights across retail locations in GB.
Highlights from the March edition were:
February was a great month for store numbers across GB, as the number of closures fell faster than openings once more. All retail categories (Comparison, Convenience, Leisure and Service) grew in numbers as Convenience came out of its long term decline. Both multiples and independents also grew together once more after a mixed performance from multiple retailers at the latter end of last year.
Town centres continued their growth spurt that helped their recovery from the deep decline experienced in the summer of 2016, welcoming 242 new stores net in February, whilst shopping centres and retail parks also increased their store numbers at a more moderate level.
The combined Retail and Leisure vacancy rate, the All vacancy rate, continued to decline below 11%, to the lowest rate in almost a decade. The Leisure vacancy rate decreased by 0.1% after a small increase at the end of 2016, and the Retail vacancy rate remained at 12.1% where it has been since the start of 2017.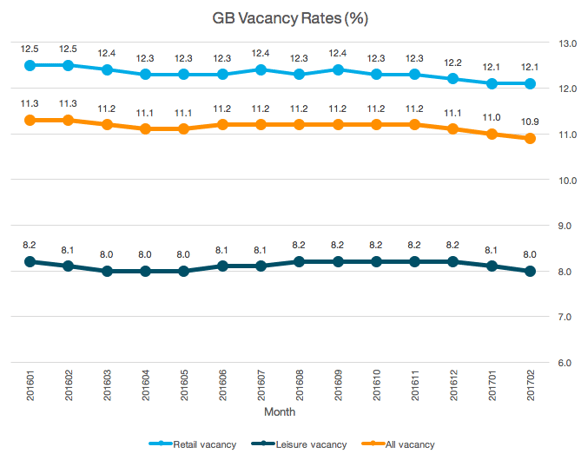 Figure 1: GB vacancy rates 2016 - 2017 (Source: LDC)
Market activity across all sectors in February included international expansion of The Entertainer toy stores across the UAE, supported by a franchise partner, Bunnings Warehouse opening their first store in St Albans after their acquisition of Homebase last year, the announcement of an opening date for the Westgate Shopping Centre in Oxford and reports of growing profits for Greggs under their new food on the go format.
Matthew Hopkinson, Director at LDC commented:
"What is remarkable about these results is how every measure in every analysis showed net growth in February, even though we also know that the overall level of activity of openings and closures has been falling month on month for nearly half a year. This reveals the fact that it is the balance between the two that is more important to the health of our retail locations than the overall level of activity."
He added: "Vacancy, particularly the combined Retail and Leisure rate, the All vacancy rate, has restarted its gentle downward progress. It remains to be seen if the Leisure vacancy rate can continue to improve given concerns that the food and beverage market may be overinflated, with more space than is sustainable."
He continued: "The business rates furore in advance of the Budget was inevitable, as under a winners and losers system there have to be losers. Our analysis shows that rather than rising rateable values being just a London phenomenon, three regions of the country and eighteen counties will see increases. Our analysis of the whole 1.8 million strong draft valuation register shows that more than a million premises face increases. The action that the Government has taken with caps, transitional relief and exemption bands will make it difficult for many to calculate how RVs translate into rates bills, but the effect will be to make sure that both the benefits and the pain will not land immediately for most types of property."