August 27, 2020
Insight Intern Gemma reviews how the coffee market has been impacted by the Coronavirus pandemic.
Alongside most leisure categories, coffee brands have dramatically been impacted as a result of the Coronavirus pandemic. Plummeting sales have forced some businesses to reconsider their estates, with the likes of Pret A Manger closing 30 stores in a strategic restructure according to various reports. Lower footfall due to minimal commuters, changing spending habits, and new safety measures mean that the hospitality industry will find it difficult to recover post-lockdown.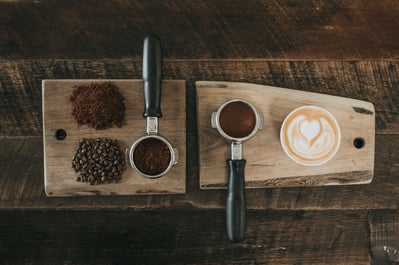 Photo by Nathan Dumlao on Unsplash
Costa, Starbucks, Caffe Nero and Pret dominate the coffee-chain industry in numbers of stores across Great Britain. For this research I have focused on these brands, rather than independent operators or brands that offer coffee as part of a broader offer such as McDonald's or Greggs. Figure 1 shows the scale of the top four businesses across Great Britain.


number of units of the top coffee chains across GB regions

Figure 1: The number of units of Pret A Manger, Caffe Nero, Starbucks Coffee and Costa across regions in Great Britain (Source: Local Data Company)
Working from Home
Despite Boris Johnson's statement encouraging employees to return to the workplace in an attempt to aid business recovery, workers are expected to continue to work from home long-term, having adapted to this new way of life without the commute saving both time and money.
A survey conducted by Addison Lee reveals that 69% of London commuters are concerned about using public transport, a stat which is supported by low footfall in July at only a quarter of the level seen in last year on London tubes. This has caused an inevitable decline in customers particularly in transport hubs and office-dense locations.
percentage of greater london sites in office locations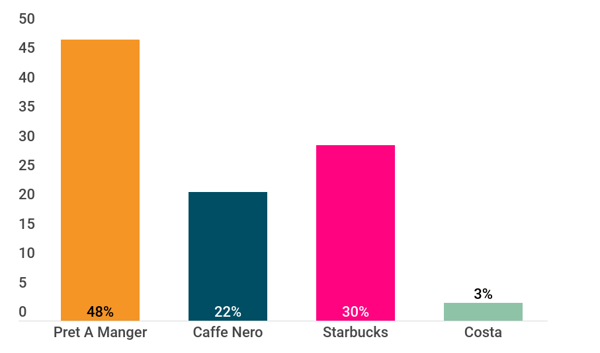 Figure 2: The percentage of units occupied by Pret A Manger, Caffe Nero, Starbucks and Costa in office locations in London (Source: Local Data Company)
Figure 2 shows the percentage of the top coffee chains that are located in office-dense locations in London. 48% of Pret stores are situated in office hotspots suggesting that almost half of Pret's London stores are at risk due to loss of key customers.
Change in Consumer Behaviour
Lockdown has also caused an unavoidable change in spending habits amid non-essential shop closures as well as job uncertainty prompting people to be more cautious in their spending. Previously loyal coffee shop customers were forced to adapt to at-home coffee consumption during the pandemic evidenced by Nespresso's growing success and online sales of packaged coffee. The reduced sales of coffee and take away food shops may be as a result of people realising they can do without, saving money in the long-run. Social distancing and safety measures could also cause people to favour meeting friends in a park or garden rather than a coffee shop where the risk is greater, especially during the warm summer months.


DRIVE-THRU POPULARITY
Out of town locations were evidently favoured during the reopening of non-essential shops due to easy accessibility avoiding risks from public transport and large crowds. Figure 3 shows the highest proportion of coffee shops are located on the high street with retail park units making up just 11% - a figure that coffee chains will want to increase in the future.
number of coffee shops units across GB by location type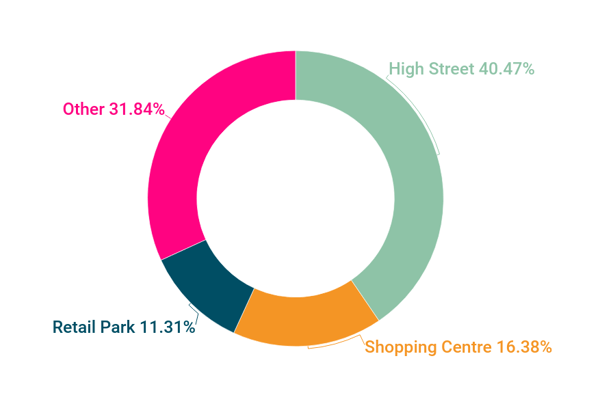 Figure 3: The number of coffee shop units located in Shopping Centres, Retail Parks, on the High Street or other across regions in Great Britain (Source: Local Data Company).
Caffeine delivery
Online retail sales surged during lockdown with many retailers utilising e-commerce in order to generate revenue and sustain loyal customers. Coffee chains adapted to make use of delivery services such as Deliveroo and Uber Eats; Starbucks is selling whole bean coffee and espresso capsules via delivery platforms and Pret has introduced a 'Heat at Home' range. Pret is perhaps better suited to this system due to its wide variety of food across different mealtimes. However, delivery fees and minimum spending amounts may deter customers, as well as the difficulty in transporting hot drinks given the time and method of delivery.
The Future
The effects of COVID will continue to impact coffee and take away food shops, especially the larger chains with hundreds of shops across the country. Their high fixed cost base will need to be reduced, so we can expect to see an increase in vacant units as a result of the drop in sales, in turn causing them to scale back the number of stores they have. This may however provide opportunities for more independent coffee shops to thrive, situated in outer areas of London popular with commuters who may now choose to shop in their local community. The shift to online will also prove to be challenging for larger retailers and there may be a demand for more inventive ways to sell their products including through wholesale channels or partnership opportunities with retailers such as supermarkets.