April 11, 2016
Iceland recently announced plans to open 25 Food Warehouse concept stores a year, in an attempt to take on rival discounters Aldi and Lidl. Currently there are 12 Food Warehouse locations across Great Britain: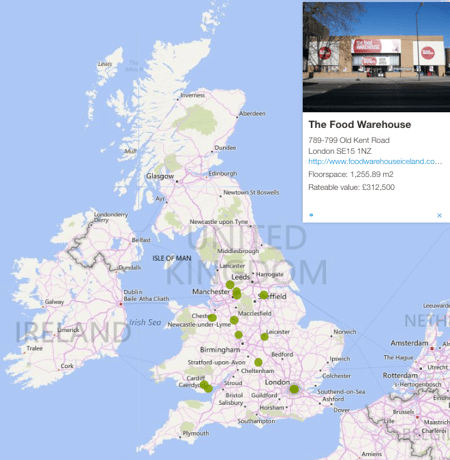 Iceland's Food Warehouse stores across GB
To say that the discounter market in Great Britain is competitive is a huge understatement. As we discussed in our Supermarkets vs Discounters report last April, the discounters (which includes Iceland) opened 1,367 units between 2010 and 2015, a growth rate of 48%. Compared to the Supermarkets (Tesco, Tesco Extra, Sainsbury's, Morrisons and ASDA) who added 582 stores in the same period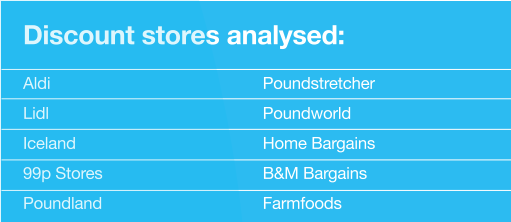 Discount stores analysed in the Supermarkets vs Discounters Report April 2015
Malcolm Walker, Iceland's founder, noted that is not just Aldi and Lidl who have taken business away from them and other rivals. Retailers such as B&M Bargains, Poundland, Poundworld, who also sell food, have increased the competition in this sector.
Iceland Competitor Analysis
We took a look at this competitive landscape across Great Britain in our online platform LocalDataOnline.
By pulling up a list of Iceland's stores* (including Food Warehouse concepts) and overlaying this with the retailers named above (Aldi, Lidl, B&M Bargains, Poundland, Poundworld), we are able to see what the competitive landscape looks like for Iceland.
In this analysis we looked at the locations of 818 Iceland stores and in particular, how dense the competition is within a 200m radius of each of their locations. The image below shows that almost half of Iceland's stores (403) have 0 competitors within 200m. However, 32% (264 stores) have one competitor store within 200m, 15% (120 stores) have two competitor units within 200m and 3% (28 stores) have three competitor units within 200m.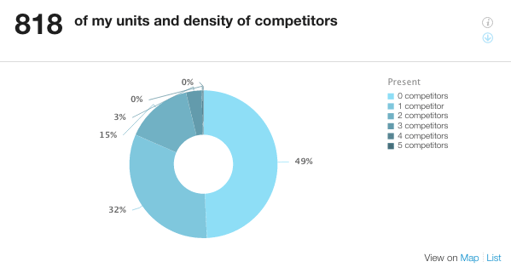 Density of Iceland's locations compared to competitors across GB (within 200m radius)
We've also created a map view so that you can see this change below: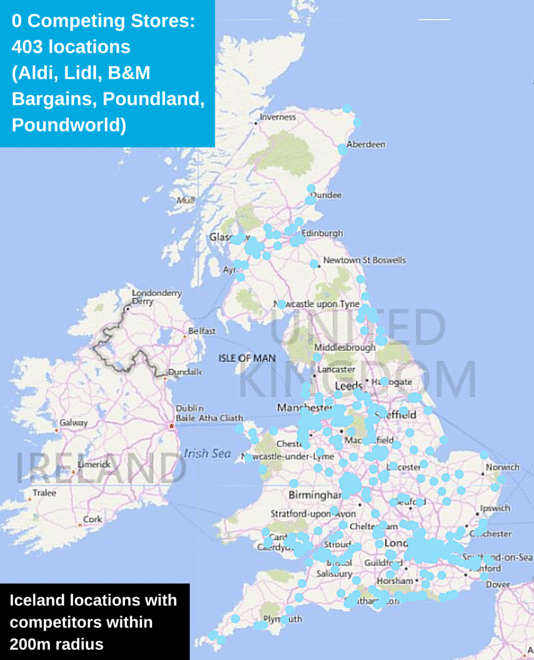 Iceland's locations with competitors within 200m radius
The image and numbers show the competitive arena that Iceland is now operating in. But there are still many opportunities for Iceland. Looking at locations where their competitors have recently opened (in the last 12 months), we can see that there are 47 locations across GB where Iceland do not have a store presence.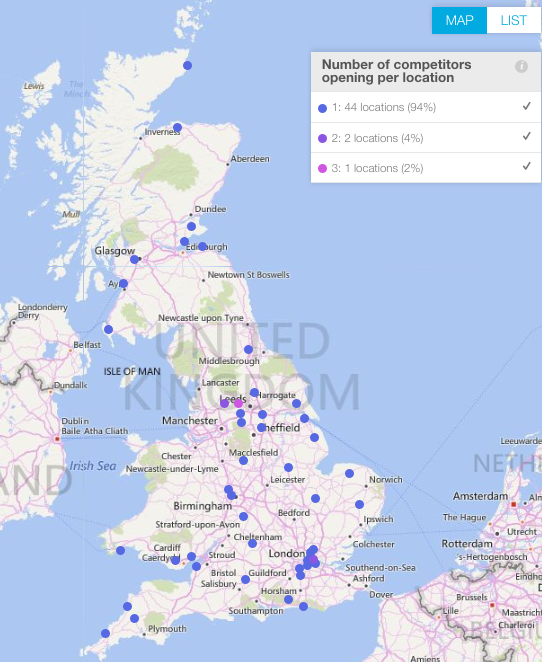 Locations across GB where Iceland do not have a store presence but their competitors have opened
The Health of Iceland's store locations
Taking a step back from analysing the completion and instead focussing on the health of Iceland's existing store locations** we can see that 15% of their portfolio are in improving locations and 70% of their portfolio are in stable locations. This leaves the remaining 15% of locations in weakening locations.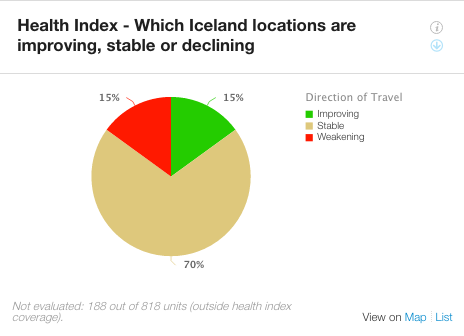 Health analysis of Iceland's locations across GB
So what can Iceland do from here?
Walker notes that a new Marketing strategy in needed to move away from the celebrity endorsements of the past. Iceland has recently hired top chefs Neil Nugent and David Lennox in a bid to change the perception of the brand, which should help recapture some of the bargain-hunting middle-class shoppers.

However, Marketing alone will not suffice. With increased competition for space on retail parks, as well as the continued onslaught of rival grocery chains, location insight will be key. Vacancy rates across Retail Parks are seeing the fastest decline out of all location types, with occupancy increasing by net 501+ units in 2015.
LDC are witnessing a wide variety of multiples choosing Retail Park locations above traditional high street locations and so from a site perspective Iceland will face more than it's direct competition.
That being said, LDC's latest trend figures show buoyancy in the grocery & convenience space which is both good and bad news for Iceland's new concept stores. Convenience retail (includes all grocery) saw the largest increase in 2015 with a +1.1% growth in openings, when compared to 2014 (6,097 new units versus 6,167).
As ever in retail, agility and innovation in formats and propositions is fundamental to help capture that ever-elusive and ever-changing consumer, but keeping track of these trends will be critical to ensure you are not left out in the cold!
*818 locations within the LDC coverage area and excluding Northern Ireland
**188 out of 818 units (outside health index coverage).