November 10, 2016
This week, the opening of the latest Co-op food store in Vimto Gardens, Salford in Manchester was announced in the news.

Having LDO our online data platform which enables analysis of locations, historical trends, market indices and competitor profiles at my disposal 24/7, I was able to do a quick piece to find out more about Co-op's locations.

I initially searched for "The Co-operative Food" and I got this....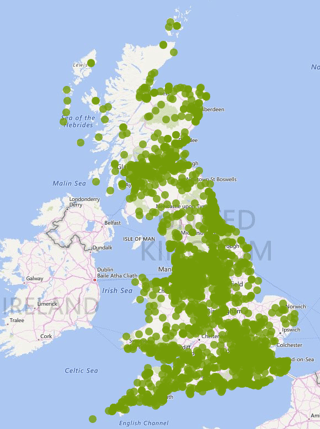 Little green dots, covering almost all of the UK, representing all Co-op's food stores.

Did you know Co-op has over 2,600 units across the UK?

According to our online Occupier Dashboard, 14% of these units are in weakening locations and 13% in improving locations.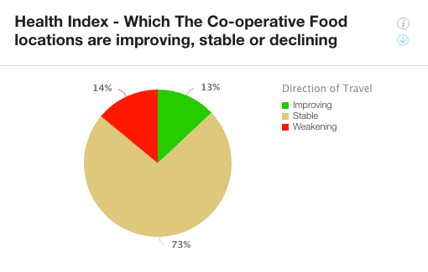 There are 38 Co-op Food Stores in Manchester. Most of which are in stable locations.

Despite the first map showing nearly no white space when zoomed out, the opening of a branch in Salford does cover a gap in the portfolio, noting here that the closest Co-op to Salford is in Manchester City Centre.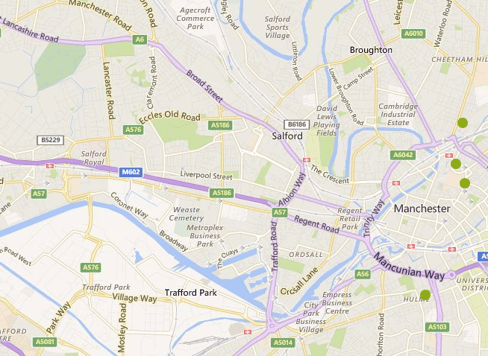 Below is a map of Salford in Manchester I took from our Location Overview Dashboard - I wanted to see what will be around this new Co-op, both in terms of complementary footfall drivers and potential competition from other convenience outlets. Assessing the surrounding landscape by sub-sector also gives us a more comprehensive understanding of the use of the area, e.g. what is the shopper mission?
The blue dots represent Comparison Goods (Bookstores, Stationery, Car Showrooms, Department Stores, Discount Stores, Charity, Florists, Jewellers, Pet Shops, etc.)


The orange dots represent Services (Auto Services, Banks, Estate and Travel Agents, Households, Laundrettes, Post Offices, etc.)


The purple dots represent Leisure (Accomodation, Restaurants and Pubs, Clubs, Cafes, Entertainment)


The red dots represent Vacant Units.



And finally, the green dots represent Convenience (Bakers, Butchers, Newsagents, Groceries, Supermarkets, Tobacconists, Petrol Stations, etc.)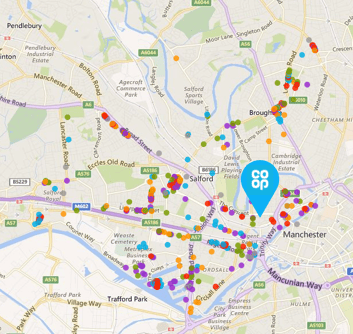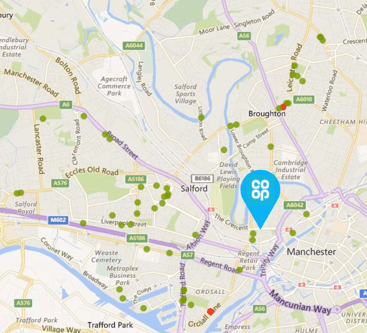 With Vimto Gardens aiming to regenerate the Chapel Street area of the city, the opening of Co-op represents part of a wider opportunity for the area. Co-op aims to open 100 new stores by the end of the year as part of its long-term growth objective and re-establish their store strategy to be at the centre of the community.