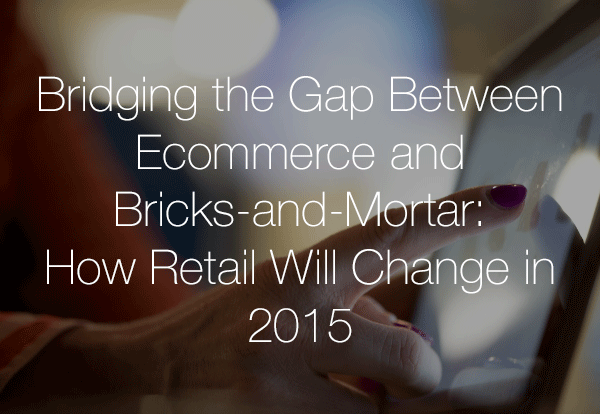 Over £100 billion worth of sales in UK retail all happened via digital channels last year.
Reported by IMRG and Capgemini, online sales figures surpassed the hundred billion pound mark for the first time last year in an upward trend that's set to continue. Forecasts suggest a further 15% uplift in 2015, meaning online sales will account for over £116 billion.
For every retailer that's investing successfully in online commerce, there's another which is yet to see a real return, or which hasn't invested at all, resulting in an emerging trend for retailers picking sides in an ecommerce vs bricks-and-mortar battle that inevitably sees both sides missing out on opportunities and custom.
The opportunities are huge, but the path to success is, as yet, unclear - or so it seems. Here, we explore the state of ecommerce today, who's doing it well, and what retailers really need to do to succeed online.
The State of Ecommerce in 2015
Ecommerce has come a long way since the early days of electronic data interchange (EDI) and today's consumer can buy almost anything online, from shoes to cars to luxury holidays.
Businesses which do well in ecommerce are investing in creating great content on their site and seamless user interfaces which make the purchasing journey as easy as possible. This is really the foundation of ecommerce success; websites which work well will always outperform those which don't.
And it's not just the final purchase that's being made online. Savvy retailers recognise that customer don't just shop online; they research their buying decisions online too. There are huge gains to be made by those retailers who can create a seamless online/offline integration which enables their websites users to identify the products that suit them best through research and purchase them in whatever way they choose, be it online or off.
Who's Doing It Well?
Food Retail: Amazon Fresh
Over 3% of all parcels delivered in the UK are Amazon fulfilments. The ecommerce giant recently announced a same day delivery service Pass My Parcel to strengthen their penetration of the home delivery market.
Amazon is a great example of ecommerce done well because the company has grown so substantially despite their lack of physical bricks-and-mortar stores. They focus exclusively on their online customers and invest heavily in improving the online experience, so retailers can learn a lot from their activities.
Amazon's current focus is on the integration of offline channels and technologies into their online offering. The introduction of the Amazon Wand, a handy piece of tech which enables users to scan items they want to add to their basket to buy later, is an indicator of how the company is working toward becoming a shopping tool as much as it is a web platform.
Did you know, you can now collect your Amazon items from Amazon Lockers, placed around the country in convenient locations such as train stations? Again, the ecommerce giant is investing in creating a seamless online/offline experience that makes it as easy as possible for customers to buy from them.
Home Retail: Ikea
One of Britain's largest homewares retailers, Ikea invests in technology to find new ways to improve the shopping experience for existing and new customers.
Their mobile app, first launched in 2013, integrates augmented reality (AR) so that users can visualise 3D versions of Ikea's furniture in their homes. The intention is to enrich the catalogue experience and make shopping easier and more fun; it is not intended to replace the print edition, and this is a key element of their strategy. By using both online and offline tools, Ikea reaches a far wider audience than it would through just one channel.
The investment wasn't a small one, with Ikea's own website citing a £30 million spend on customer experience, both online and off. However, the 25% uplift in the online sales year on year from 2012 to 2013 was undoubtedly more than enough to justify their initial spend, emphasising the age-old 'speculate to accumulate' message.
Retail Outlet: Meadowhall Shopping Centre
Meadowhall became the first UK shopping centre to use iBeacons, during a ladies' night in May 2014.
The technology, which enables push notifications to users based on proximity data, was used to deliver deals when the ladies entered the various 'hotspots' set up around the shopping centre. They could then use their deals, sent in the form of mobile vouchers or codes, to make purchases on the night.
The term iBeacon is a trademark of Apple Inc., which developed the technology as a "new class of low-powered, low-cost transmitters that can notify nearby iOS 7 or 8 devices of their presence". More and more businesses are making use of the technology to engage with potential customers when they're in close range of their store, thus increasing the likelihood that those people will stop by.
iBeacons are relatively cost-effective to set up and are more reliant on the messaging that's to be transmitted and, of course, on the target user having their device's bluetooth switched on (as the signal is sent via bluetooth).
The Impact of Showrooming
"Showrooming" is the name given to the process of viewing an item in a physical store, then finding the same item online and making the purchase there.
Consumers do this for a variety of reasons. Often it's cost related, whereby they find the desired item cheaper elsewhere using an online search. It may be related to convenience or availability, where the desired item is unavailable in store and they therefore order online.
What's happening in each of these scenarios is that the physical experience is in some way impaired. Where cost is a driving factor, consumers who find a better deal elsewhere are unlikely to feel bound by brand loyalty and will go to the cheapest provider. Retailers who run online-only campaigns can expect to see this impact their offline sales.
Where convenience or availability is impaired, savvy retailers are integrating the online tools into the offline experience.H&M, the clothing retailer, has done this in the form of their Scan and Buy service, where users can scan an item's barcode using their smartphone to order it online - particularly useful on occasions where the item is out of stock in the desired size or colour.
Tesla Motors caused a stir when they fully embraced the somewhat controversial practice of showrooming, by opening a showroom where visitors were actively encouraged to make their purchase via touch screens. Those who came to the store could see the physical cars, and were guided to select their desired options and extras through the app. In this way, Tesla took the idea of showrooming and turned it around to their advantage. They let their customers guide the way they shopped by looking at how they were already behaving and sculpting their user experience accordingly.
What does it mean for today's retailer?
It would be easy to explore the potential of ecommerce all day long. But by this stage, the importance of trading online as well as off isn't in dispute. Rather, it's the journey to ecommerce success that's unclear. With so many avenues available to explore, where should retailers be investing for the best return on their budget?
Get the website right - on desktop as well as mobile
The first step to any successful ecommerce project is to get your website right. This means ensuring the site showcases each product and its variations in a way which is visually appealing and makes the purchase as easy as possible for users.
When talking websites, Google and the impact of other search engines cannot be ignored. As well as looking and working as it should, your website needs to be built in such a way that it has the best chance of being indexed and ranked in the search results pages.
There are various platforms available on which ecommerce websites can be built - as well as there being the option, as always, to create a bespoke system which best suits your needs.
According to their website, the Magento platform now powers one in every four online commerce websites in the UK. This content management system has been developed to integrate all of the functionality your website could need to take online orders - and from our experience of developing Magento websites, we would have to agree and fully recommend the platform.
Responsive Design
In 2015, having a great site means having a site which works well on mobile devices. According to Smart Insights data, over 80% of UK internet users owns a smartphone. IMRG, the UK's industry association for e-retail, stated that a third of all online sales was made on a mobile - and that data was released in 2014. In 2015, we'll see this grow substantially, and for this reason mobile is an essential channel for retailers to use.
A responsive website design resizes depending on the device on which it is viewed. This means effectively that retailers only need invest in one website, as opposed to multiple sites designed for specific devices. Retailers reviewing their website in 2015 will invest in responsive design to excel on mobile too.
Mobile Technology
iBeacons, augmented reality, phone apps that scan items and automatically add them to your basket; these are just a few of the ways retailers are already making use of mobile technologies to improve the customer experience.
When crafting a marketing campaign, retailers must keep an eye on mobile technologies and consider how they can be used to best enhance the experiences of their specific audiences. Much as Tesla Motors let their users guide the design of their experience, savvy retailers will draw on audience feedback and user data to identify the channels which work for them.
Taking Data to a New Level
Successful digital marketing in the retail sector is driven by data. This data drives an understanding of the audience that has previously been unavailable to retailers.
Consider the impact of loyalty schemes for supermarkets. With data derived from their Nectar scheme, Sainsburys has engaged over 16.8 million subscribers, from whom they gather key data around shopping habits and behaviours which they integrate into their direct communications to that customer, creating personalised experiences with a far higher propensity to convert.
Data driven marketing doesn't end with loyalty schemes like this. Retailers are using mobile technology to gather data on where their customers shop and where they're most engaged through iBeacons and similar schemes. Purchasing preferences gathered online are guiding the way retailers fulfil orders, with the rise of Click and Collect schemes a classic example of user feedback driving a major change in the industry.
As with all things digital, the key to ecommerce success lies firstly in the creative approach to marketing products and displaying them online, and secondly in the ability to monitor user data and adapt accordingly. It's for this reason that many of the country's biggest retail brands are now turning to the support of specialist ecommerce marketing agencies to manage their online presence.
The Future of Ecommerce
2015 already looks set to be a big year for ecommerce. To date, we've seen an almost haphazard approach, where only the leading brands with the biggest budgets have been able to invest in the kinds of campaigns that get heads turning.
We expect to see more retailers developing their ecommerce propositions in 2015. The onus will be on these businesses to ensure that they meet the minimum requirements of an ecommerce site - to represent each product well and that, technically speaking, their website works as it should. That's almost a given at this stage though.
Those who truly excel this year will be the brands who invest in the user experience to a much deeper level. When a website or app is easy to use and integrates seamlessly with the offline experience, sales will grow. No longer are we facing an ecommerce vs bricks-and-mortar battle, and any business which fails to capitalise on a multi-channel approach will be left behind by this time next year.
Guest Contributor:
Aaron Dicks of Impression - A Digital Marketing Agency based in Nottingham with clients across the UK. You can visit Impression's website to find out more about theirDigital Marketing Services here.