March 13, 2019
I have to declare an interest here, I'm a total coffee addict and the move to bigger offices in Clerkenwell last year has only served to fuel my vice with a plethora of amazing independent concepts within a short walk of our HQ. However, despite the trend towards ever-increasing coffee consumption, the market still faces challenges and interestingly in London we have seen a, perhaps unexpected, decrease of independent coffee shops in the last 12 months. Is it the increased competition, higher rents and rates or challenges from the multiples which is causing a slow down? We are huge supporters of founder-led businesses as well as champions of great new concepts and very strong coffee, so it was a real pleasure to chat to Ryan, who alongside his business partner founded The Attendant, a must-visit if you are ever near their Clerkenwell, Shoreditch or Fitzrovia venues...
Lucy: What's the story behind the concept for the Attendant?
Ryan: The concept of the Attendant was always from humble beginnings. We wanted to create an environment to allow people to detach from their 9 to 5 that was a bit of a third space. We wanted to create a place with more personality and something that was driven by a focus on provenance, sustainability and a strong core ethos. This ethos involved cultivating both a local community and a global community through our supply chain, so ethical sourcing, provenance and sustainability.
L:How did you decide on the speciality coffee market?
R:At the time I was working for Bloomberg and Bosh, (the Attendant's other Co-Founder) was running an events company and a nightclub. With the market crash in 2012 and £12 billion being lost in that sector alone, it hit him really hard and they had to wind the business up within three months. Both of us were going through a crossroads at the time, I didn't want to work for Bloomberg anymore because I wasn't able to grow and develop in the way I wanted to. So, I decided to quit my job at Bloomberg to take a step back to allow perspective to figure out what would be fulfilling for me on a day-to-day basis. I spent a lot of time in speciality coffee shops as I lived in Shoreditch at the time and coffee had always been in my family. My mum owned a coffee shop when I was a kid, so it's not something that has ever been too far away from me. I really liked the market, I really liked working with people and I really liked the idea of creating an environment that catered for people taking the time for themselves.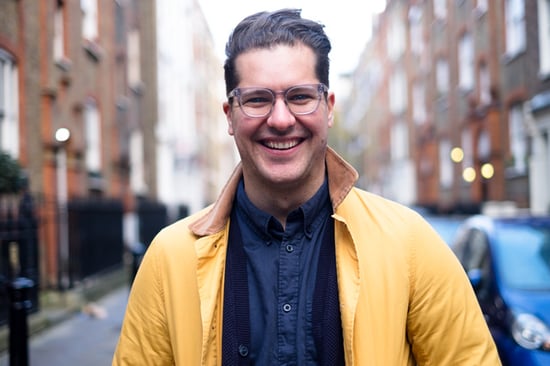 Ryan De Oliveira, Co-Founder of the Attendant.
L:What is the driving force around your provenance ethos?
R:The great thing about speciality coffee is having an open supply chain. We know who the farmer is, what washing station the coffee was processed at and the entire supply chain until it gets delivered to our UK warehouse and delivered to our roastery where I hand roast it myself. Our entire process is completely transparent, and you learn to value it because there is something like 183 man hours that go into making a single cup of coffee. And you're only paying £3 for it, which as you can imagine, hardly covers anyone's costs. Speciality coffee is driven by getting a fair price for the people growing the coffee - so the more money the farmer has, the better the crop he can produce as he can provide better irrigation or he can hire more people to work with him. It also protects his lifestyle from a standards point of view, lots of these areas have no running water, no electricity and few are educated, so speciality coffee supports the development of these more rural areas.
L:Which brands inspired you when you opened your first store?
R:There were a few brands in London that I really liked, so at that time you had Workshop Coffee, Caravan and Square Mile. But within the greater, global scale, I really liked what was going on in the café scene in Melbourne, I liked what they were doing. They were trying to create more of an environment, something that people could really be a part of and that really inspired me.
L:What is life like for you running an emerging leisure brand?
R:It is pretty full on. The management team is really just Bosh and myself, so throughout the day I get to wear many different hats, I have had to learn an incredible amount really quickly over the last five years. We have been lucky along the way and Fitzrovia has fantastic marketing and branding pick up as the unit is an upcycled Victorian men's loo so we've had international press coverage global TV and blogging pick-ups.
L:How do you hire staff that buy into your ethos?
R:It can be really difficult to recruit the right people as they are so intrinsically important to our business. As you can imagine in hospitality there can be a bit of turnover, we have been quite lucky in the sense that some of our employees have been with us three or four years, so it's great for me that people enjoy working in our environments and really feel that they can get behind the brand, so it's been quite easy to engage them. There's a book I read about leadership by Steve Radcliffe, it talks about FED – future, engage and deliver and it's about selling the idea behind the Attendant to the employees that we bring in. We do this throughout the entire process, from the moment they come through our website to the initial telephone interview to their first trial. Generally, we want people to get a feel for who we are as much as we want to get a feeling for who they are. We want to create an environment where people are happy and if our staff are happy then our customers are most likely going to be happy.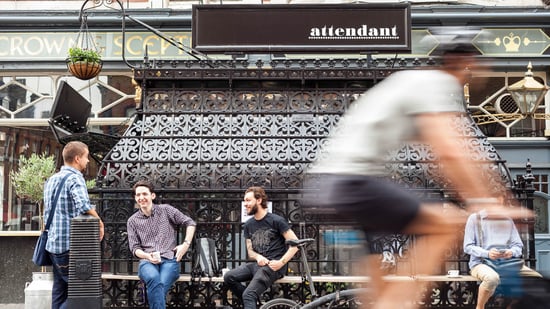 The Attendant store in Fitzrovia. (Source: the-attendant.com)
L:How do you balance the provenance aspect and the costs in the business?
R:It's very difficult, ultimately at the end of the day you want to maintain provenance and ensure you are paying a fair price, but not over paying. It mainly comes down to experience, understanding what quality in coffee really is. In the industry we use a process called 'cupping' where we score each coffee from 1 – 100. Speciality coffee falls in the region of 84 and above and we generally buy coffee between 84 and 89. Your palate becomes good at tasting varying intricacies in the coffee and any defects, so you can then see if you can get a cheaper price if there's a defect or if it's really good coffee then that's what it is and you should pay for it. With the pound devaluing against the dollar, coffee has become about 25% more expensive. Buying in bulk helps us to have economy of scale and we've built a good relationship with our supplier – he knows our company goals and has bought into the ethos of what we are doing. Developing a long-term partnership helps us get some discount and then watching the market helps too.
L:What are your growth plans? Will Brexit impact these?
R:100% Yes. They will be impacted by Brexit, we have actually decided not to open any more stores this year. There is simply very little money available in the market at the moment especially following CVAs of bigger brands in hospitality.

Last year we attempted to open two more sites, but at the last moment our lead investor pulled the funding and everything toppled down like a house of cards. We had already committed £200k and exchanged on the leases on two really good sites with really good rents in really good locations. This was super painful and we almost went bust as a result. This left us with 30 days of cash and we considered having to CVA. Luckily we didn't need to, we managed to turn 30 days of cash into 40 days and 40 days into 50 days and so on and so on and slowly we clawed our way out of it.

What happened really has made it very difficult for us to grow. Covering our group costs is difficult with just three sites, five sites is really the place we need to be. We have always been a growth business and have been very open about why we do what we do, so having a central production kitchen and having the roastery etc are all things that cost and it's an economy of scale thing. We were dipping in and out of breaking even, making a loss, breaking even, so we needed the extra two sites to consolidate everything. This year for us is more about survival.
L:What has been the toughest challenge?
R:The incredible amount of costs. And I don't think this is just a thing for independent operators at the end of the day - this is across the board. You've got wages going out, which is a large part of any hospitality business, and then on top of that you're now forced to provide pensions – which I'm very much up for, but it is an extra cost and then you've got your 13 % NI and then rents in London are going up constantly with no real regulation. Our rent in Shoreditch has gone up 115% in five years! They're quoting market rates but it's not viable - the economy has not grown by 115% and I can't increase my prices by 115% - it's illogical. Then with Brexit, you've got suppliers putting up prices, so it's an aggregation of all these things, which makes it really difficult to keep your head above water. It's super hard.
People management is also really tough in hospitality. If you go to a restaurant and the service is bad, even if the food is OK, you won't go back. Because actually what you value more is the experience created by the people who are serving you. If someone in the team is having an off day it can create a knock-on effect that can be really damaging and hits sales. There's a huge correlation. There was a time in Shoreditch where we had the wrong team, individually, they were all lovely people, however together they just did not work. And people felt that, they just stopped coming in. So, we changed the team, refreshed the ethos and then all of a sudden the customers were coming back and sales jumped back up by 25%! Operationally, it's not hard to get the coffee right, it's not hard to get the food right, but getting the service and the experience right is critical.
L:Is there anything you can do to mitigate these challenges?
R:After a trip to New York we noticed that everyone takes a service charge in the cafes – but we don't really do that here in the UK. We wondered how our customers would respond to that. Are they going to be annoyed by it? But we thought it was worth taking a risk, because if it works, then we can motivate our staff based on a service charge. We are now able to pay our staff a London living wage, utilising service charge as a reward. So our people work harder and provide a better service knowing that if they do, their end of day take-home will be higher. Before that, it was very difficult.
L:What has been the most rewarding part of your journey so far?
R:For me, the main drive of this business was to create an environment where people could really detach themselves. Having people feel so at home in our cafes and loving the environment is incredibly rewarding for me. Especially when I see the team being so engaged and realising what a difference they make to people's day-to-day lives. When they enjoy that, then that is really rewarding for me because it feels like I'm adding value, which I think is very important.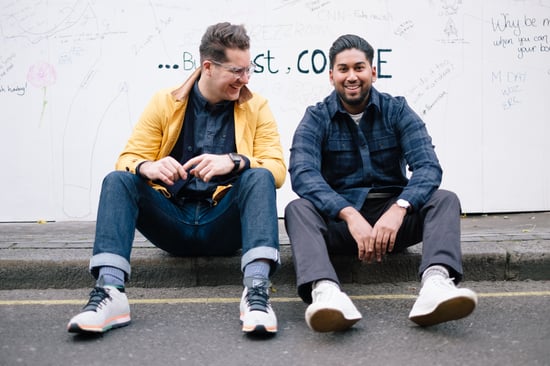 Ryan and Bosh, Founders of the Attendant. (Source: the-attendant.com)
L:What is one piece of advice you would give to other businesses?
R:Understanding everything in terms of rents and margins - don't think it's easy to open a restaurant or a coffee shop "how hard can it be?" - it's very hard and something which should not be taken lightly. Honestly – this is probably the hardest thing I have ever done. But also the most rewarding. It's a love-hate relationship!
Make sure you have a solid concept in every way. Really understand that concept – how are you going to generate all the revenue you need to keep it running? To do this you have to know how to create a brand, how to market it, you have to be a salesman, a financier, you have to understand social media, you have to understand the market, what it wants and when also what's trending. It's just ever changing and evolving. I would never have predicted Brexit. Last year, I would never have had issues raising money if it wasn't for Brexit and if there wasn't so many CVA's in the hospitality sector, so luck is one thing you'll need and good timing.
Big thank you to Ryan for sparing his time to speak with us. Visit the Attendant in Shoreditch, Fitzrovia or Clerkenwell or visit the-attendant.com to read more about Ryan and Bosh's story.