Happy New Year from LDC!
At LDC, we can't believe how quickly 2017 seems to have gone. We had an incredibly busy and exciting year which included us installing our 800th footfall tracking sensor, making a whopping 804,000 updates to our retail and leisure database over the entire year, 20,300 hours of field research time, running four incredibly successful retail summits across London, Glasgow and Cardiff, welcoming lots of new faces to the team, a shiny new office in Farringdon and much, much more!
2017 was also a very eventful year for the retail and leisure market, which saw many brands come together to share space, last minute rescues, foreign invasions and lots of shiny new shopping centres, creating more experiential destination for the nation's shoppers. We've collated our highlights from the past year, just in case you missed anything!

Retail
GAME announced in August this year that they were planning to pilot four concessions inside Maplin stores around the UK, which would mean closing four of their standalone stores. Their objective with this move was to create an authentic GAME experience within the well-known technology retailer, taking up between 400-500 sq. ft. of floor space and adding more value to the space for shoppers. GAME currently has over 300 stores in the UK with 220 of these up for lease renewal by the end of 2018. If the partnership proves successful, we could see a rollout of further concessions in 2018 and a further reduction in GAME's standalone estate. Partnerships generally appear to be the trend for 2017 as we've witnessed a number of other retailers also joining forces across different sectors, such as EE & Argos inside Sainsbury's & Wasabi in M&S to name but a few.
In 2017 we welcomed new retailers from Poland (Reserved), US (Kendra Scott), Canada and Sweden (Weekday and Arket). Among these newcomers, was Australian homeware specialist House, who announced plans in August to open their first UK store by April 2018 and a further 75 within three years. The UK has proven to be the chosen destination for Australian retailers looking to grow their business, with the majority of brands proving to be a hit with UK consumers. According to statistics by GOV.UK, Australian retailers alone have delivered £203M in capital investment and 18,000 jobs in the UK. Smiggle have especially become very successful with over 100 stores, as well as Lovisa who has 10.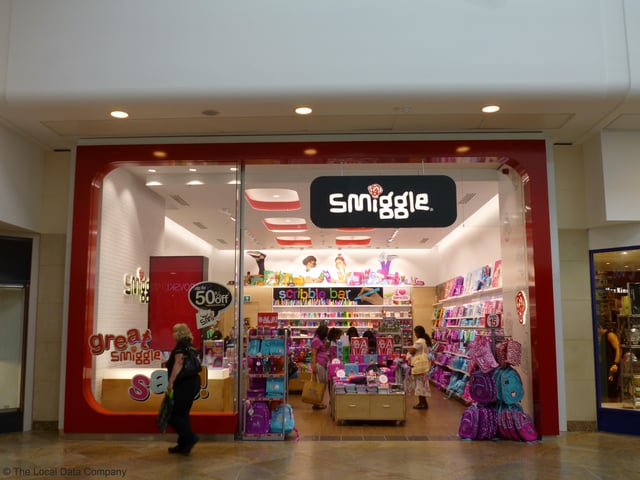 Smiggle, Oracle Shopping Centre, Reading (Source: LDC)
Sofa specialist DFS had a busy year with two acquisitions aiming to add more strong and distinctive brands to its portfolio. They first announced a £25M deal for Sofology in August, which has 38 stores, and the purchase was cleared by regulators in November. In addition, eight store leases and other assets were also bought from furniture retailer Multiyork in a £1.2M deal. Six of their stores will be rebranded to Sofa Workshop and two will become DFS stores. Administrators have not yet stated what will be happening to Multiyorks remaining stores, however the staff from the eight closing stores have been promised jobs at DFS stores.
Last year, Toys 'R' Us confirmed plans to shut at least 26 of their stores in the UK. The closures meant a loss of up to 800 jobs for their current 3,200 employees. However, in December, just before Christmas, they were saved from going into administration in the UK after an eleventh-hour deal was signed with its largest creditor. Support given from The Pension Protection Fund has meant that 3,200 jobs will remain intact and the retailers restructuring proposals will go ahead. They have assured customers that all their UK stores will remain open until Spring next year.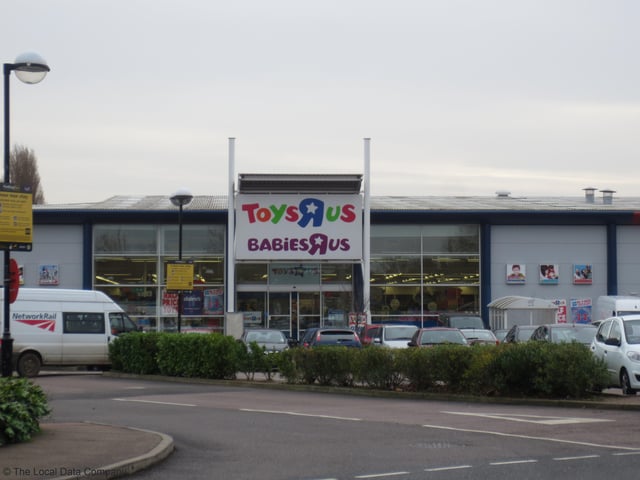 Toys 'R' Us, Cambridge (Source: LDC)
Store Twenty One had an eventful year, going from compulsory liquidation in July which led to the closure of all their stores, to being bought back to life by another company in October and making a comeback. The retailer had failed to gather the funds needed to keep them afloat by the deadline set by HMRC, which meant 122 stores were closed and 900 employees were laid off. However, in a dramatic turn of events, some of the stores were bought by a new investor and were re-opened. One of the first 37 stores to be re-opened was on Sleaford high street, at which former staff have been re-employed. It is not yet known who the investor is, but they have been said to already have expansion plans in place and will most likely start trading at the existing stores but under a different name.
Leisure
In a LDC Press Release in September, it was identified that in the last five years the average annual growth rate of F&B units was +743 per year, a number that almost doubled to 1,333 in 2017. With this increase, there has also been a rise in fast food outlets and an increase in demand for home-delivered, restaurant-quality meals. Just Eat reached the 300 million orders mark in the middle of 2017 as well as making its FTSE 100 debut. Another hugely successful food delivery brand UberEats is considering rolling out a subscription model according to UK executives. Some major cities such as Milan and Madrid bring in more revenue from food delivery services than its ride-hailing business, hinting that this industry is set to grow further. A new report carried out by Capital Economics says if Deliveroo continue to grow at their current rate, they could contribute £1.5 billion to the UK economy in 2018/2019.
Q4 of 2017 saw the introduction of a range of new leisure destinations across the UK. Starting from London's new dining destination: The Bloomberg Arcade. Weston-Super-Mare opened their £45m leisure complex, Dolphin Square, which houses brands such as Nando's, Pizza Express and Luda with Cineworld and more restaurants lined up to open. The Redrock development in Stockport officially marked their opening by throwing a gala to introduce the opening of The Light cinema as well as restaurants Zizzi and Pizza Express. Loungers, Mangobean and others are due to open soon.
Convenience Retail
In January, Tesco announced it had agreed to buy the UK's biggest wholesaler, Booker Group, in a deal for £3.7bn. The announcement generated a lot of speculation and disproval throughout the sector, opposing retailers arguing that the takeover would harm suppliers, increase prices, and result in less choice for independent retailers and consumers. However, the deal was given full approval by the Competition and Markets Authority, after a seven-month review in December 2017.
In 2017, Sainsbury's expanded its offering, exploring partnerships with a variety of retailers. By April it had opened its 50th Argos click and collect service point, following the purchase of its owner, Home Retail Group, in late 2016. In August, plans to open the click and collect service in 100 Sainsbury's convenience stores was announced, with the overall aim to eventually have an Argos concession in every Sainsbury's supermarket. In July it was revealed that EE would be opening 100 stores within Sainsbury's supermarkets following the axe of its own mobile phone shops. The 100 concessions will be installed by 2019. Sainsbury's most recent partnership is with Zizzi pizza brand. In December, it launched its first instore pizza counter, serving the brands restaurant quality pizzas on-the-go.
It was a big year for the discount supermarkets in 2017. In July Lidl announced plans to double its number of store openings to an impressive 60 per year. UK chief executive Christian Härtnagel stated they would aim to, 'open at least one shop a week', and is supported by £1.5bn to fund the expansion. Aldi was also a force to reckoned with last year and in February revealed it would be opening up to 70 new branches in the North East as part of its expansion plans. The discount retailer also opened its 700th store in Whitstable this year. The chain plans to have 1000 stores open in the UK by 2022. At the start of 2018, data released by Kantar Worldpanel shows that almost £1 in every £8 spent at supermarkets is spent in an Aldi or a Lidl. Expansion for these two discounters looks unlikely to slow down this year.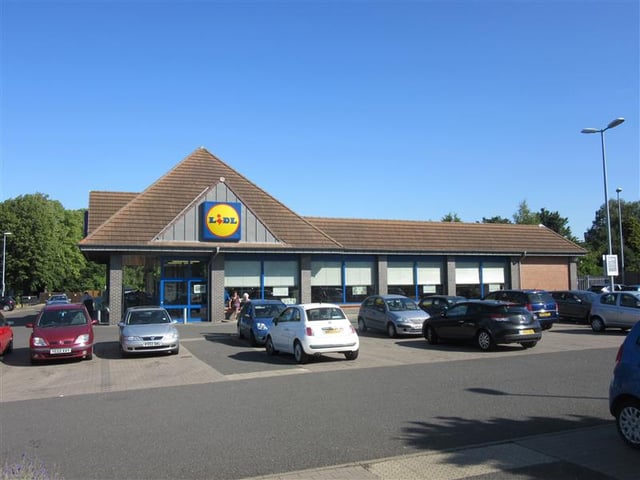 Lidl, Bedford (Source: LDC)
Greggs opened its first drive-thru branch in Salford in June last year. The opening was a success and the bakery chain has now announced more drive-thru branches are on the horizon. A surprising addition this year was three Metro Bank drive-thru sites, showing us that drive-thrus aren't just for fast food and movies!
Property
One of the biggest shopping centre openings in 2017 was the refurbished Westgate Oxford. The £440m centre covers 800,000 sq. ft. of retail space and comprises 125 shops, restaurants and leisure brands including anchor John Lewis. The grand opening took place in October and saw thousands of shoppers pack into the centre on its first trading weekend. Shops and restaurants within said customer interest had, 'exceeded expectations.' Another new and popular location was Rushden Lakes that opened in July which has a strong mix of retail and leisure. The £140m development is home to retailers such as M&S, Primark, and H&M and offers 230,000 sq. ft. of retail space set against a backdrop of lakes and 200 acres of nature reserve, in partnership with the Wildlife Trust.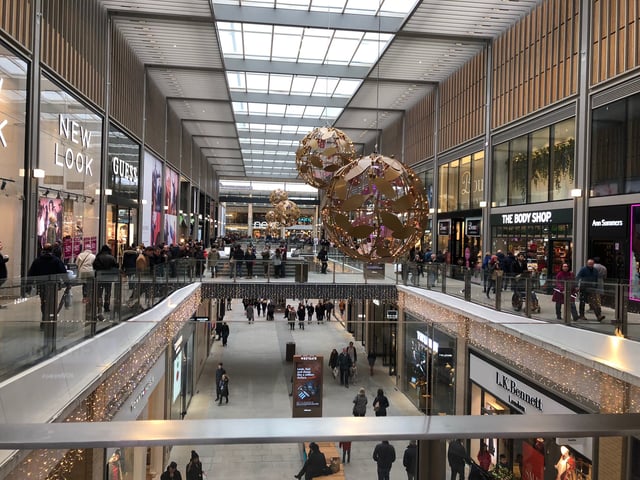 Westgate Shopping Centre, Oxford (Source: LDC)
So, that is just a few of the things that hit our desk in 2017, and with the start of a new year, our desk research and field research teams are back tracking all the activity to update our growing data base. We're looking forward to seeing that this year holds and we wish everyone a very successful 2018!